Perhaps the first thing anyone would have noticed about Yasir Nawaz's upcoming film Mehrunisa V Lub U is the way the title has been spelt. We ourselves were wondering if there is any specific reason for spelling the title of a film in this manner and that was one of the questions posed to the two stars, Danish Taimoor and Sana Javed.
It was informed that the producers wanted to make the title sound colloquial and casual. However, a representative from the production team, Usaf Shariq did admit that perhaps the meaning got lost in translation. Regardless, the film is all set for an Eid release and it has been termed as an 'Eid Entertainer' by its cast and crew.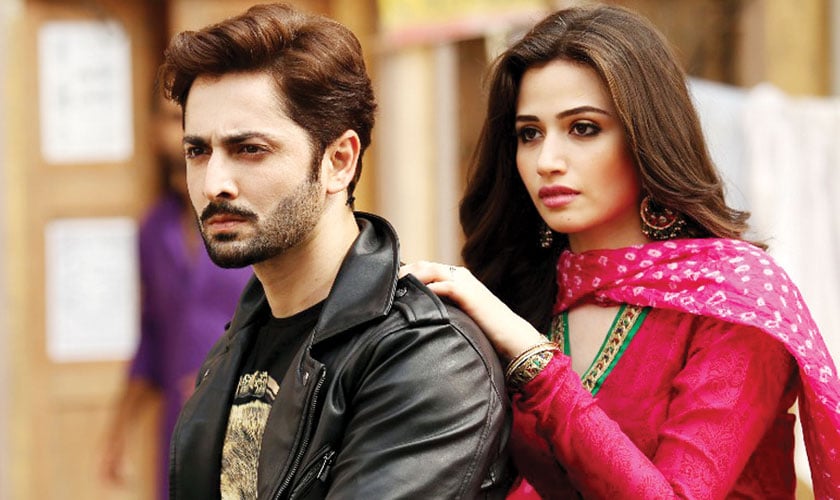 MVLU stars Taimoor and Javed in lead roles while Javed Sheikh, Nayyar Ejaz and Saqib Sameer are also playing important roles in the film.
"For me, it's all about content," shared Javed when asked about the factors she takes into consideration when signing a film. "And of course, the director's vision," Taimoor piped in. Both stars unanimously agreed that they have full faith in Yasir Nawaz and his ability to make a successful film.
Shot over a span of 45 days, MVLU has quite a few things going for it. The teaser looks very cinematic. The cinematography is gorgeous, the beautiful locations have been utilized wisely, and the cast boasts some very credible actors. Moreover, the lyrics of the songs in the film have been penned by the very illustrious Indian poet and lyricist, Gulzar. In total, there are 4 songs in the film, one of which is being called a 'celebration song' by the producers.
However, according to Taimoor, the true strength of the film lies in the message it delivers. Of course we do not know what that message is for now but we will learn it soon enough as the film will release on the first day of Eid-ul-Fitr this year.
"The film isn't very preachy though," explained Javed to which Taimoor added: "You know how Rajkumar Hirani's films are? 3 idiots, Munnabhai M.B.B.S and PK were all fun, entertaining films but they all had an underlying message or theme. MVLU attempts to do the same. We will try to convey an important message to our audience in a loving and fun way."
What we do know for sure about MVLU is that the film also boasts one of the most expensive sets ever constructed in Pakistan. "We recreated a very busy junction of Karachi for the film and that set cost us roughly Rs. 20 million to create. We made our own road and gave attention to every detail. You won't be able to tell that it's a set when you see it in the film," shared Shariq.
Was there a need to create a set so grand? "It's not easy to shoot in public locations in Pakistan as it is very difficult to control the crowd. It's also very difficult to control the amount of information that gets leaked to people prior to the release of the film. A closed set ensures privacy as well as a greater level of control over all aspects of the film," explained Shariq. It was also told that the entire film has been shot in Pakistan where the songs have been shot in the northern areas of the country. "For us, the set was an absolute necessity; it wasn't an extravagance just for the sake of it."
How did Javed perform while wearing saris in freezing temperatures? The film's teaser shows a very Bollywood-esque sequence in which Taimoor and Javed are frolicking in the snow somewhere in Muree and Nathiagali and Javed has adorned delicate saris that don't look very warm. "The temperature was minus 8 and I was afraid I might get frostbite," laughed Javed.
"It took us total of 12 days to complete the shooting of two songs and yes, I tried every possible trick to keep myself warm during it. I would drink tea and coffee but none of that works when you're wearing a sari in the snow", Javed said about keeping herself warm in such freezing temperatures.
Was she made to wear heels as well? "No, thank God! I was always wearing a very comfortable pair of boots underneath," she laughed.
Because of these Yash Raj film inspired sequences, it's only natural to draw comparisons between MVLU and Bollywood films. "These comparisons have to stop. Pakistani films were being made like this many years ago as well. We used to have item numbers and make films in the same manner. Our conflicts are the same; our style of storytelling is the same. Of course our films will look similar. And even if they look similar then what's the problem? Bollywood does well in Pakistan. People run to the cinemas to watch Indian films. So if our films look the same then that just goes to show that we're making films that the audience wants to see. We can try making earthy, artsy films but right now the market is small. We have to create films that can feed revenue to all the screens in Pakistan right now," exclaimed Taimoor, putting a rest to the big Bollywood debate that currently exists in the industry.
All in all, the cast and crew of MVLU appear confident that the film will do well.