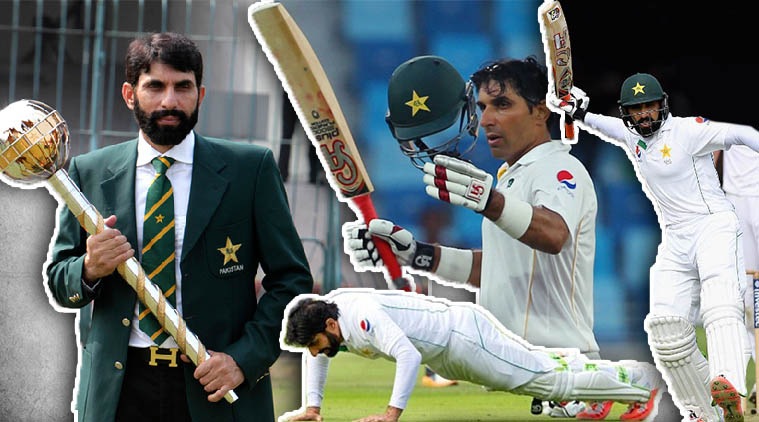 As Misbah-ul-Haq's illustrious 17-year old career comes to an end, another era of Pakistan cricket draws to a close. It was an era which brought motivation and sense of discipline to what was a shattered and dispersed unit. After making his debut against New Zealand in 2001, Misbah-ul-Haq had managed to play only 19 Tests out of the 79 Test matches Pakistan played till 2010. At the age of 36, his Test career seemed as good as over. However, a set of events not only brought him back into the squad but also saw him named as the captain.
In his career of nine years till 2010, he had scored 1008 runs at an average of 33.60. But after being appointed as the captain, he scored 4225 runs which include eight centuries and 35 half-centuries. His 4225 are the most runs scored by any captain from the subcontinent. Moreover, the role of captaincy not only evolved him as a player but also brought stability to the national team.
From the spot-fixing scandal to not being able to play at home, there were several controversies that rocked Pakistan cricket and joining the bits was never an easy task. But he overcame all the challenges and guided Pakistan to top spot in ICC Test rankings.
Post-Inzamam-ul-Haq's retirement, Pakistan cricket dealt with a severe leadership crisis. It was a bold move taken by the Pakistan Cricket Board (PCB) to appoint someone who was not even consistent in finding a place in playing XI. After Salman Butt was convicted in taking a bribe for under-performing while seamer Mohammad Asif and 17-year old Mohammad Amir were entangled in the spot-fixing controversy, Misbah became the third Pakistan player to be appointed as Pakistan's Test captain in 2010.
Misbah captained Pakistan in 57 matches since then, where they managed to win 26 matches at a winning rate of 44.64%. His six-year tenure as captain is the longest term by any player in the history of Pakistan cricket. It was more than Imran Khan and Inzamam. Noticeably, both Misbah and Imran belong from the same district of Mianwali in Pakistan.
During his tenure, Pakistan saw the rise of a couple of spinners – Saeed Ajmal and Yasir Shah. Under his tenure spinner bowled exceptionally well and took 59 percent of the wickets.However, in 2014 Ajmal was banned from bowling due to an illegal action.
Unable to play at home, after series of terrorist attacks, Pakistan was forced to play cricket in UAE. From unsuitable pitches to non-existent crowd support, the Misbah-led side had to overcome several hardships. But over a period of six years, this team registered most number of wins outside home conditions. By doing so, the 42-year old batsman surpassed the Australian duo of Steve Waugh and Ricky Ponting (19) and South Africa's Graeme Smith (23).
Furthermore, Misbah had to deal with strong objections regarding Amir's inclusion in the national team for their tour of England in 2016. He had to ensure that the integrity of the sport is maintained and the tainted seamers get a second start to his international career.
As he ends his international career, Misbah is the second most successful Test skipper in the subcontinent after MS Dhoni. Therefore, his contribution to Pakistan cricket simply cannot be judged by numbers as it was much more than that and which will never be forgotten.