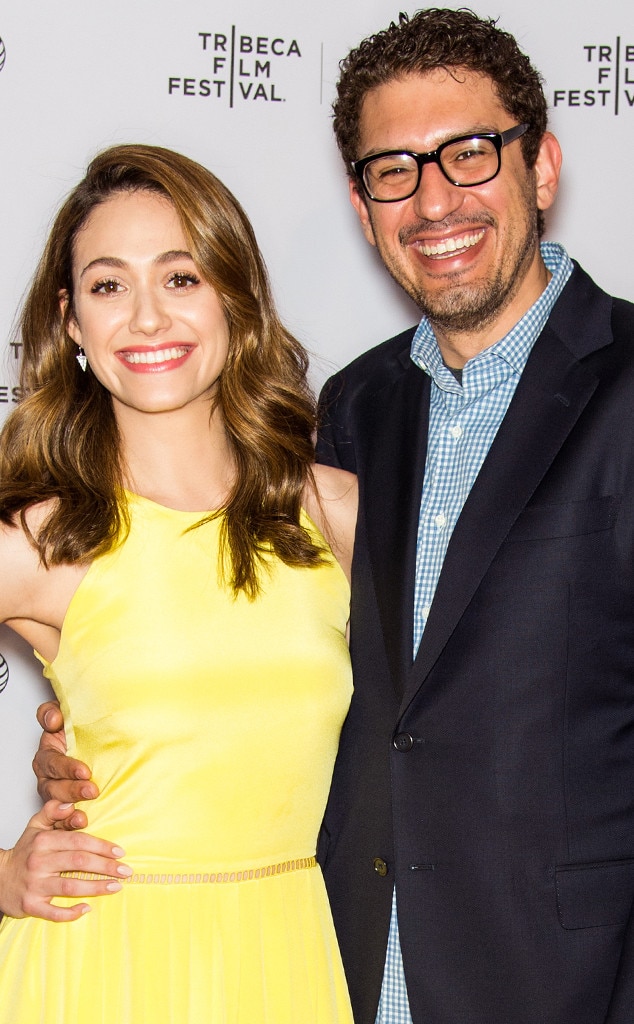 While some people spend Memorial Day weekend barbecuing or going to the beach, two titans of TV spent it another way — by having a wedding. As People reported, Emmy Rossum and Sam Esmail got married on Sunday, May 28 in New York City. The Shameless actor and the Mr. Robot creator have been engaged since 2015 and despite rumors that they had already been married, they made it official during the long holiday weekend. Although the ceremony was described as intimate, some notable celebrities were in attendance to celebrate the couple. And for fans of Shameless or Mr. Robot, you'll be happy to know that cast members from Rossum and Esmail's shows were there to support the pair during their big day.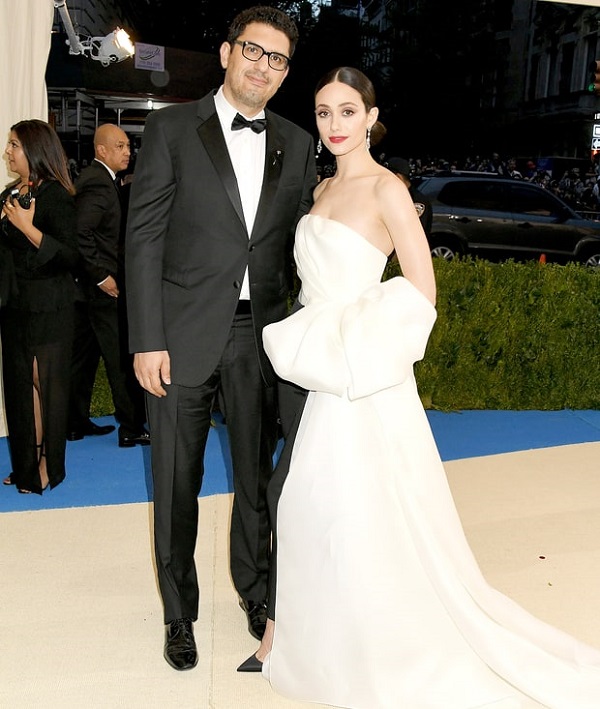 As one would expect, Rossum looked gorgeous in her wedding gown designed by Carolina Herrera. She reportedly wore the classic, off-the-shoulder dress at their ceremony at the East 55th Street Conservative Synagogue and during their reception at the Guggenheim. Yet, despite the swanky reception setting, Rossum told E! at the Carolina Herrera show for New York Fashion Week in February 2017, "I don't really care what the dress looks like. I don't really care what the plates look like. I don't really care what the invitation looks like. The only thing that's really important to me is that we get married and there's some kind of party."
The story behind @emmyrossum's stunning wedding dress and inside her fitting with @HouseofHerrera. https://t.co/5gJDuHFjtR

— Vogue Magazine (@voguemagazine) May 29, 2017
By the sound of the guest list, there definitely was a party. Along with Robert Downey Jr. and Hilary Swank, who was the bride's costar in the 2014 film You're Not You, Rossum and Esmail were joined by their TV families. Although there is no word on whether or not all of the Gallagher clan from Shameless was in attendance, William H. Macy was reportedly at the wedding — which is only right considering he portrays Rossum's father on the Showtime series. And three stars of Esmail's Mr. Robot — Rami Malek, Christian Slater, and Carly Chaikin — were there for the celebration too. Hopefully they took a break from their anarchist hacking to enjoy the reception.
Although their wedding planning was low-key, it sounds like Rossum and Esmail's wedding was still an epic event that focused on what's most important to them — their family and friends being there to celebrate their love. Congrats to the happy couple!